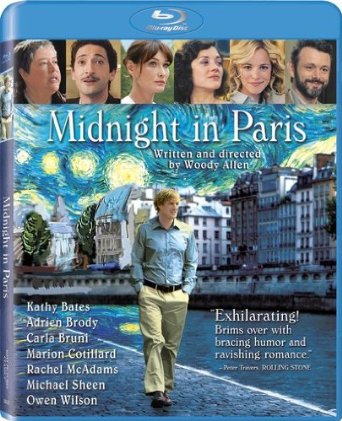 "O północy w Paryżu", reż. Woody Allen
Sztuka ukrywania sztuki
Pewnie już wiecie, że dzieło sztuki, żeby mogło być uznane za wielkie przez krytyków i ludzi uniwersytetu (co np. w USA na jedno wychodzi), musi być oderwane od życia, zawiłe, mało zachęcające i zwyczajnie nudne. Nie macie czasem upiornego wrażenia, że celem sztuki współczesnej jest ukaranie nas za niepopełnione grzechy? Weźmy te wszystkie "niezwykłe", "zachwycające" i "porywające" książki, na które marnujemy czas i pieniądze. A współczesna muzyka poważna – czy nie sprawia, że wolimy wyżywać się w muzyce mniej poważnej, albo wałkujemy bez końca utwory dawnych mistrzów? Współczesne malarstwo? Wolne żarty.
Czemuż to artyści dzisiejsi tak się od nas odwrócili?
Jest to, obawiam się, jedna z tajemnic, których nigdy nie zdołamy przeniknąć.
Możemy się jedynie pocieszać, że istnieją jeszcze nieliczni twórcy, zwłaszcza w branży filmowej, świadomi, że ich dzieła – choćby były nie wiem jak oryginalne, głębokie, wielowymiarowe czy wysublimowane – są jak potrawa, która musi smakować, by trafić do wyobraźni.
Żeby nakręcić swój jak dotąd najbardziej kasowy film, reżyser-aktor-pisarz-scenarzysta itd. Woody Allen przekwalifikował się na cukiernika par excellence i przyrządził nam smakowity tort w stylu francuskim – kremowy, nęcący, zmysłowy – niemal dekadencki tort filmowy zbudowany z trzech magicznych warstw o różnych smakach.
Fabuła O północy w Paryżu (2010) jest zarazem prosta i skomplikowana, realistyczna i nierzeczywista.
Idealistyczny scenarzysta z Hollywood Gil Pender (Owen Wilson) i jego materialistyczna narzeczona Inez (Rachel McAdams) spędzają urlop w Paryżu w towarzystwie bogatych filistrów – rodziców Inez, Johna (Kurt Fuller) i Helen (Mimi Kennedy). Gil i Inez stanowią niedobraną parę. Gil, który pracuje w pocie czoła nad debiutancką powieścią, uwielbia Paryż, zwłaszcza w deszczu (Możesz sobie wyobrazić, jak zabójczo piękne jest to miasto w deszczu?). Inez, tak jak jej rodzice, nie cierpi Paryża, zwłaszcza w deszczu (Co jest takiego cudownego w moknięciu?). Co gorsze, Inez chce, żeby Gil przestał zawracać sobie głowę literaturą i poświęcił się bez reszty dobrze płatnej, ale ogłupiającej pracy w Hollywood. Gil i Inez spotykają przypadkiem znajomych, Paula Batesa (Michael Sheen) i jego żonę Carol (Nina Arianda). Inez uwielbia Paula (bo on został zaproszony do prowadzenia wykładów na Sorbonie! On jest znawcą francuskich win! itd.), ale Gil uważa go za pseudointeligenta. Pewnego wieczoru Gil podczas samotnej przechadzki gubi się w zaułkach Paryża. Wybija północ, podjeżdża zabytkowy Peugeot z imprezowiczami w strojach z lat 20. XX wieku i wkrótce potem Gil poznaje wielu legendarnych artystów Epoki Jazzu (jego ulubionego okresu), jak Cole Porter, Zelda i Scott Fitzgeraldowie, Ernest Hemingway, Pablo Picasso, Luis Bunuel, Salvador Dali itd. Zaprzyjaźnia się on także z Adrianą (Marion Cotillard), uosobieniem francuskiej femme fatale. Co ciekawe, Gil i Adriana przenoszą się w czasie aż do tzw. Pięknej Epoki (Belle Époque), gdzie Adriana zostaje na zawsze. Na koniec Gil odkrywa, że Inez ma romans z Paulem, zrywa z nią i zostaje w Paryżu na stałe. W ostatniej scenie spotyka ujmująco bezpretensjonalną Francuzkę Gabrielle (Léa Seydoux). Gil jest zachwycony, bo ona też uwielbia Paryż, zwłaszcza w deszczu.
A teraz – weźmy nóż, ukrójmy kawałek tortu O północy w Paryżu i przyjrzyjmy mu się warstwa po warstwie, zaczynając od góry.
Pierwsza warstwa, dostrzegalna dla wszystkich, bo znajdująca się na wierzchu, jest kusząco puszysta, słodka i lekka – tak lekka, że pierwszy kęs niemal od razu rozpłynął mi się w ustach. Ta część zawiera rozmaite atrakcje, jak malownicze widoki Paryża, także w deszczu (https://www.youtube.com/watch?v=J3ExqFAO85o), nastrojowa muzyka przywołująca na myśl osławiony paryski szyk i szarm, bogate wnętrza, dialogi skrzące się przewrotnym humorem Woody'ego Allena, popisowe role aktorów, apetyczne kobiety (Adriana aż kipi seksapilem) i efektowne sceny, np. gdy uroczy wariat Salvador Dali (brawa dla Adriana Brody'ego!) zaprasza Gila na kieliszek wina (Ty lubić kształt nosorożca?... Ja malować nosorożce. Ja namalować ciebie. Twoje smutne oczy… twoje duże usta rozpływające się na gorącym piachu…) https://www.youtube.com/watch?v=_q1V_xjHhLM; albo gdy Gil przerywa Paulowi wykład w muzeum, żeby zabłysnąć oryginalną interpretacją obrazu Picassa https://www.youtube.com/watch?v=VH7nbMU5OpM; albo kiedy spotyka Zeldę i Scotta Fitzgeraldów na przyjęciu (Zelda: Masz błędny wzrok. Osłupiały. Ogłupiały. Jak po narkozie. Jak po lobotomii.). https://www.youtube.com/watch?v=6JeRVJA6Sa8&nohtml5=False
W sumie: pierwsza warstwa jest pełna blichtru, blasku i poloru, i z pewnością przyczyniła się do dużej popularności i sukcesu kasowego O północy w Paryżu. Tyle tylko, że filmy Woody'ego Allena zawsze kryją w sobie więcej niż można dostrzec gołym okiem: dlatego musimy zajrzeć głębiej, pod powierzchnię.    
Druga warstwa, która, powiedzmy to otwarcie, nie jest aż tak widowiskowa, słodka ani pociągająca, zachwyci zwłaszcza osoby interesujące się literaturą i sztuką. O północy w Paryżu zawiera bowiem mnóstwo odniesień kulturowych i literackich. Na przykład: to prawda, że Salvador Dali miał bzika na punkcie nosorożców i przyjaźnił się z Luisem Bunuelem, a nawet nakręcił z nim awangardowy film pt. Pies andaluzyjski. Gertrude Stein była wyrocznią w sprawach literackich i kolekcjonerką dzieł sztuki. Cole Porter grał na fortepianie i stworzył wiele szlagierów (z których trzy znalazły się w filmie). Pablo Picasso miał tuziny kochanek i muz (wśród których nie było jednak Adriany). Ernest Hemingway uważał, że Zelda Fitzgerald ma zgubny wpływ na Scotta (jak stwierdził bez ogródek w Ruchomym święcie). Luis Bunuel zrobił film o grupce osób, które spotykają się na proszonym obiedzie i z niewyjaśnionych przyczyn nie są w stanie opuścić domu (Anioł zagłady) itd.
A jednak artyści to blagierzy, i nie warto ich traktować zbyt poważnie. Nie ma na przykład żadnych dowodów, że James Joyce, który rzeczywiście mieszkał w Paryżu w Epoce Jazzu, jadał parówki z kapustą kiszoną, jak mówi Gil. Z drugiej jednak strony – czy nie miał racji Nabokov, że artysta, w przeciwieństwie do świadka, ma obowiązek mówić prawdę i wszystko oprócz prawdy? Więcej odniesień znajdziecie w "ściągawce" czasopisma Atlantic. http://www.theatlantic.com/entertainment/archive/2011/06/hemingway-said-what-a-cultural-cheat-sheet-for-midnight-in-paris/240198/  
Trzecia warstwa jest niepozorna, słodko-gorzka i nieco pikantna, jak ciemna czekolada z nutką chili, i nasuwa ciekawe spostrzeżenia na temat Gila Pendera jako pisarza.
Ale najpierw – co rozumiem przez pojęcie pisarz?
Osobę mającą "dar słowa"? której pisma ukazały się drukiem? a może która zaliczyła kurs tzw. twórczego pisania?
Nic z tych rzeczy.
Mówiąc pisarz, mam na myśli kogoś, kto – mówiąc najogólniej – przygląda się uważnie życiu, drąży rzeczywistość ukrytą za fasadą pozorów i dzieli się swoją wizją z czytelnikiem, po przetworzeniu jej w sztukę za pomocą wyobraźni i stylu.
Gil Pender, w przeciwieństwie do rasowego pisarza, nie widzi, a co za tym idzie – nie rozumie, co się dokoła niego dzieje. Jest on, na przykład, nieświadomy, że jego narzeczona traktuje go protekcjonalnie. Że romansuje z Paulem, jak to ujął filmowy Ernest Hemingway, na jego oczach. Że prędzej czy później stanie się jego największym wrogiem. Że Adriana jest w nim zadurzona, o czym dowiaduje się z jej pamiętnika dopiero po fakcie.
Nie ma więc wątpliwości, że ta cała słodko-gorzka przygoda w Paryżu jest objawieniem, rodzajem przełomu w życiu Gila Pendera. No i pięknie. Tylko czy Gil wyrośnie z dziecinnych poglądów na życie i naiwnych tęsknot za przeszłością? nauczy się żyć w teraźniejszości i zwracać uwagę na ważne szczegóły? spełni swoje ambicje i zostanie pisarzem? Z ostatniej sceny, gdy Gil spotyka Gabrielle – wielbicielkę, jak on, piosenek Cole'a Portera i Paryża w deszczu – wynikałoby, że tak. https://www.youtube.com/watch?v=FTseyjEt4Ho Myślę sobie jednak, że reżyser w tym właśnie miejscu zwabił nas w pułapkę. Nic przecież łatwiejszego, niż dać się oczarować, a nawet uwieść, tej pełnej magicznego uroku scenie – przypadkowemu spotkaniu nad Sekwaną, w nocy, kiedy w powietrzu unosi się duch romansu i miłości – i nie zauważyć, że pewien drobiażdżek, pozornie nic nieznaczący szczególik, może rozwiać wszystkie złudzenia. Woody Allen jest precyzyjnym reżyserem, także w kwestii czasu. Wystarczy. Bon appétit.
(Z angielskiego przełożył Krzysztof Mąkosa) 
© by Krzysztof Mąkosa
Reżyseria i scenariusz: Woody Allen
Obsada pierwszoplanowa: Owen Wilson (Gil Pender), Rachel McAdams (Inez)
Obsada drugoplanowa: Kurt Fuller (John, ojciec Inez), Mimi Kennedy (Helen, matka Inez) Michael Sheen (Paul Bates), Nina Arianda (Carol Bates), Marion Cotillard (Adriana), Léa Seydoux (Gabrielle), Carla Bruni (Przewodniczka w muzeum), Tom Hiddleston (F. Scott Fitzgerald), Alison Pill (Zelda Fitzgerald), Corey Stoll (Ernest Hemingway), Kathy Bates (Gertrude Stein), Adrien Brody (Salvador Dalí), Adrien de Van (Luis Buňuel), Tom Cordier (Man Ray), Marcial di Fonzo (Pablo Picasso), Yves Heck (Cole Porter), Yves-Antoine Spoto (Henri Matisse), Vincent Menjou Cortes (Henri de Toulouse-Lautrec), Olivier Rabourdin (Paul Gauguin), François Rostain (Edgar Degas) i in.